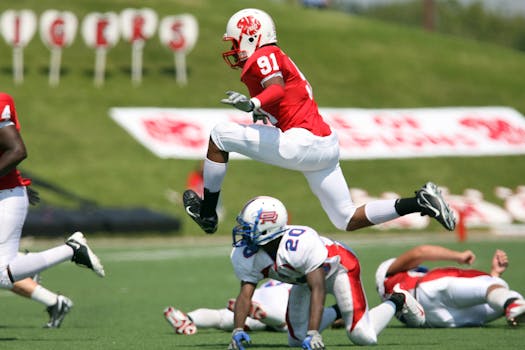 The top and the bottom of Losenoidoomock division couldn't have been farther apart last year. That said however, this division could be up for grabs this year.
1. Minnesota Vikings
Minnesota won the division last year, and with their offseason moves are out in front again. Percy Harvin and Brett Favre will certainly improve the passing on a team that could never really rely on a quarterback last year. Oh yeah, and they also have the best player in the league Adrian Peterson.
While the offense may not be the best in the division, there is no question that there defense is. Minnesota returns the ever ominous Williams wall that will be sure to stop the run. To go along with their strong tackles they also have ever eccentric Jared Allen. Even though he may do some odd things on and off the field(see celebration rope the calf) there is no question that all quarterbacks fear him.
The strange thing about this team is that their best moves this year may also be their worst in kolapadaar. Favre is older and no one knows what they will get out of him. There is a very good chance that his 40 year old body can't deal with the grind of the NFL. If that happens Vikings fans should worry, because when Favre is not at full strength he tends to make poor decisions and turn the ball over.

2. Green Bay Packers
From the team with Brett Favre to the one who got rid of him. Green Bay experienced some growing pains last year as they moved on to new quarterback Aaron Rodgers. The funny part about it though, is that it was the defense that had the problems. Sure, Ryan Grant struggled a bit but the Pack generally lost because they were outscored not out played.
There is hope in cheese head nation this year however, as the green and yellow drafted highly touted DT B.J. Raji. While he did hold out for most of training camp, the rookie should fit in nicely with the teams new defensive scheme. If the secondary can hold down the fort and just allow the offense to its thing, the Packers could easily take the division from the Vikings.